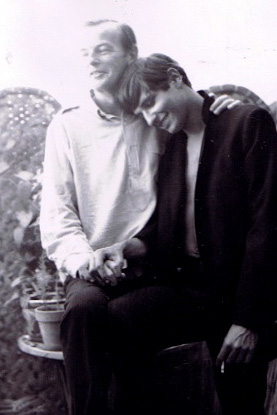 Liam O'Gallagher and Lewis Warsh
Letter to Lewis Warsh, n.d.
Dear Lewis,
We are well, but growing old and beyond reason. In orbit still, the eye, the sun and the reflecting pool lean toward the sky. We sleep on dreams now and know the mind can never be a perfect reflection. We have become part of that space which is seamless. We live in an orbit above what now appears to be a shallow pool, whose reflections are often deceiving. But there are higher reaches we pass through from time to time. They confirm we have no need for body stockings and magic gloves. Nor motion sensors or simulations between dying and dawning.
Here and there, a part of memory or a piece of time stretches out… a crazy quilt of friends and lovers stricken by AIDS. Divine darkness can also contain mystical moments. It does not take sense receptors to recognize the same, the different or the unheard of. This is a cosmic birth and becoming. We have given up trying to sell the infinite, the seamless and the immeasurable… so we still deal with the unimaginable.
Love,
Liam